WELCOME TO OXFORD REIKI...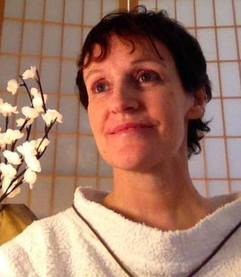 I started OXFORD REIKI in 2008, after qualifying as a Reiki Master/Teacher with Reiki Evolution in 2007.
In 2009 a serious health problem put an end to my other practice as a Holistic Massage Therapist, which had become too physically demanding.This turned out to be a total blessing that enabled me to explore in much greater depth this beautiful, very potent and versatile healing energy which fascinates and inspires me just as much 14 years on...
OXFORD REIKI SERVICES AT A GLANCE
TREATMENTS
HANDS-ON
TREATMENTS
ONE-TO-TWO

My intention has always been to try and follow the
origina
l
simple approach
to
giv

ing,

teaching

and mos

t

importantly

,
LIVIN

G
Reiki
,
which Reiki founder

MIKAO USUI

had a century ago.
Since I qualified as a teacher in 2007,
I have learnt something new about Reiki from every hand
s-on /distance treatment, course, group share and case study I have ever been involved with.
My
10-week visit to Japan and its key Reiki places
in 2017
just reinforced my immense respect for Dr Usui's inspiring work and for Reiki itself.
The main aims of the O.R teaching approach ar

e to
Invite students whenever possible to absorb the course contents and new energies

at their own pace,

thanks to flexible one-to-one teaching

. If time is short or you do not live locally, I am however happy to take you through the first level

over a weekend or 2 week days

. (Overnight stays can be arranged).
Help students from Practitioner (L2) toTeacher Level (L4) develop their confidence and competence through a number of enjoyable

Case Study assignments

*.
Get students to

develop their own unique connections with Reiki

and explore every aspect of it, particularly the

spiritual level

, which to me is Reiki's most precious gift.
Give people who have

already been attuned

to Reiki -by myself or another teacher- but have stopped practising, a chance to get the beautiful energy back into their lives without having to start from scratch again. My '

R

efresher Course

'

will take you just where you are at, bring back your original confidence and excitement and deepen your connection with Reiki.
*Since

not everyone doing the course wants to become a Practitioner

, you are very welcome to do the

Reiki 2 Level

without

the formal Case Studies. If what you are looking for is to strengthen your current practice and understanding of Self Reiki,
Distance Healing, and
giving Reiki to others (you will be encouraged to practise informally on myself and your friends and relatives), this is probably the best format for you.
At the end of the course, you will receive your

Reiki 2

Certificate of Attendance

, as opposed to the

Reiki 2

Practitioner Certificat

e. (
Reiki 2 Practitioner Certificates are only compulsory if you want to give Reiki professionally or as a volunteer in hospitals/ hospices, which requires you to be covered by an insurance).
The same applies to

Reiki 3

. If Reiki has become a big part of your life but you do not wish or have time to do formal Case Studies, I will be very happy to take you through
Level 3 so you can explore the

deep self-healing and spiritual content

of that level.
Please note that although Case Studies are not compulsory,
keeping a

Reiki /

self-healing journal
is
highly recommended for this level. Again this option means you will get your
Reiki 3
Certificate of Attendance
,
as opposed to
the Reiki 3

Master Practitioner Certificate
.
Whether you just receive a taster session,
a course of treatments or
some Distance Healing
; whether you study the short self-healing course or all 4 Reiki Levels and become a Teacher, provided you have an open mind and an open heart,
you are likely to get

deeply touched by Reik

i

, as millions of people already are worldwide
.
Students sometimes look at me in disbelief when I say that not all healing comes from a place of Love... (remember Rasputin?)
Well, Reiki IS Love,

the energy of pure Unconditional Love

, and in my eyes,

one of the most precious yet accessible gifts to mankind

.
-----
REIKI AND SELF-HEALING
An important difference between Reiki and some other forms of healing is the absolutely central

place of
SELF-HEALING
.
Reiki s

elf-healing is
simple, instant and very effective
, whatever your age and physical, emotional or spiritual background or issues.
Through
m

y own urgent need for self-reiki
in 2009
, I was able to find out what a powerful tool it can be and decided to offer accessible one-to-one
self-re
iki
courses
to people who need them.
Important Note

: If sadly 'our time has come', or some big crisis which we have a lot to learn from is hitting us,

Reiki cannot and will not magically take it away from us, but

Reiki being the wonderful Loving energy that it is,

will always help us

cope

better

,

cope with the

pain

, cope with the

fear

, help us find our own

inner peace

and

grow spiritually

from our crises.
If you would like to see what some of my clients/ students
have written
about me or their OXFORD REIKI experience
over the years,
please have a look at their
TESTIMONIALS

.